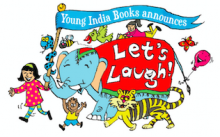 Let's Laugh! Theme for LRSIA 2018
LRSIA has a dual mission: to recognise and applaud schools that go the extra mile to instill a love for reading, as well as, to inspire and encourage children to become discerning readers.  
This prestigious award had been initiated by Young India Books in 2014 to applaud and recognise five progressive schools of India for the year. Every year we pick the best Indian books for children according to the theme of the year.  Themes selected in previous years were:
2017:
India Meri Hai
2016: You Be the Judge
2015: Wild About Wildlife
2014: We, the Children of India
"Laughter is the Best Medicine." Being Happy helps the child's mental and emotional growth so crucial in these days of stressful exams and so many other pressures. Laughter enables students to recognise the happy and fun side of life. Hence our theme for this year was Let's Laugh! 
Schools sent us the year-round programmes conducted in their libraries to excite children about reading, thus sowing the seeds of Lifelong Readers. 
These Progressive Schools had participated 
The Winning Schools Are...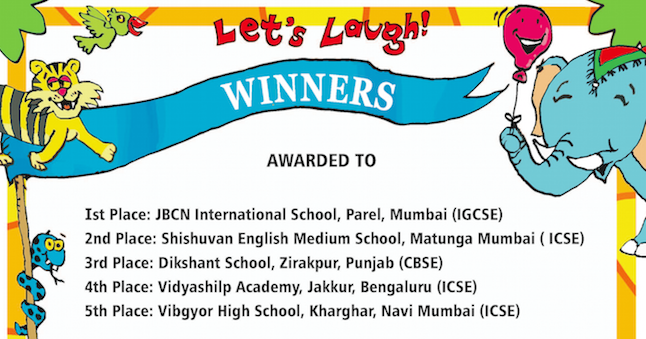 Congratulations Winning Schools!!

Your schools are now featured in the Young India Books


   Hall of Fame   

Congratulations to All Students Winners!!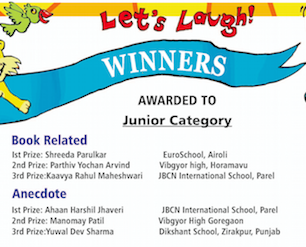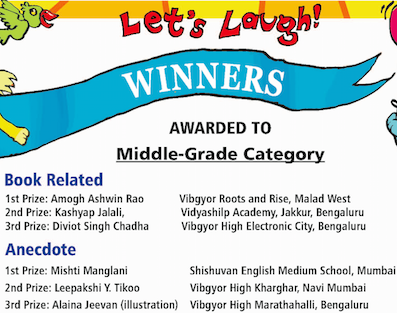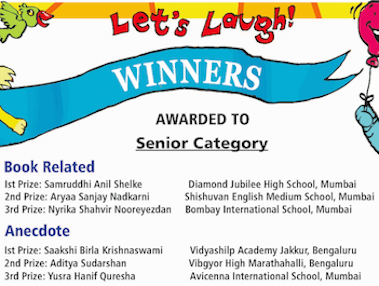 The Reading List comprised of the funniest of Indian books 
Students read the books,  told us what tickled them the most and narrated the funniest incidents in their own lives.

School Speak

Mrs Jimmy Agarwal, Principal of Vibgyor High, Kharghar: "Reading is a symbiotic relationship between a Reader and a Writer. All books talk. But a good book listens as well. The labour of organizing a competition themed around books is thus such a refreshing change in a world dominated by the 'visual'. For it enhances the essential dialogue across the silent bridge between the two domains: The Writer and The Booklover.

The fact that every young reader had to write a review of her or his chosen book alongside their own life experiences in tandem with what they considered the funniest part of the book they had selected to review, offered a unique platform to co-join the dual: the thrill of reading a book and then finding the comparable moments of what they, as readers, have learnt from the experience of their evolving lives. Bringing this personal touch to the competition has, indeed, been a unique endeavour." (Read the full text)

Mr Sandeep Chabbra, Principal, JBCN International School, Parel: "What Young India Books is doing is absolutely phenomenal. ...(their) focus is to promote Indian authors. It is important that our childrendo so because it is in context with life as we see around us." 

Rozmeen Saifee, teacher at JBCN International School, Parel: "I would like to thank Mrs Shamim Padamsee and Young India Books for such an amazing idea of bringing learning through reading to us."
Asha Narayanan, Lodha World School: "Thank you Young India Books. I'm sure more number of students will now be motivated to pick up reading as their hobby."

Tanya Gulrajani, Principal VH Goregaon: "LRSIA was an excellent initiative undertaken to inculcate the habit of reading. It was an enlightening programme that helped our students of VIBGYOR High appreciate literature. There are many readers amongst our students but thanks to the LRSIA programme these very students became voracious readers.
Students who enrolled for the programme had to follow a predefined format where they had to read a book and write a gist about it or create their own response journal. Reading was made even more interesting since questions had to be answered online which is apt for today's generation.
Thank you to Team LRSIA for collaborating with us and giving this opportunity to our avid readers to emerge as winners. We look forward to another enriching year of reading."

C.P. Goenka International: "Excellent opportunity for encouraging young reads to develop and enjoy reading books of eminent authors and genres."
Akanksha Gavade: Young india Books is giving dtudents and excellent platform to show their reading skills. It encourages students to read more books and gain knowledge.! Great initiative! Remarkable and commendable!!!
Mr Rajshekhar, Chief Librarian, Shishuvan says, "We have been working with Young India Books since the last five years for the Leading Reading Schools of India. It has been a wonderful experience."

Ms Jamila, Pre-Primary School, Librarian, Shishuvan says, "The theme selected for this year is very good and we are happy that the books are all by Indian authors, as most of the time children are addicted to books by foreign authors."

Winning students, Shishuvan, "The theme for this year (Let's Laugh!) was very interesting and we enjoyed reading the books as they were very funny."


Author Speak

Shals Mahajan: "It was good to read what my readers find funny and why in Timmi in Tangles. But what I was most impressed by is how several of the students have written about incidents where they themselves were the ones being laughed at and how not only did they join this laughter, but also, in a few instances, initiated it! I think that this is one of the most difficult things to learn and it is good to see young persons finding such laughter more joyful than laughing at other people. :

Khyrunnisa A. "Young India Books ought to be lauded for the kind of work you have been doing out of your love for books, children and children's literature."

Arundhati Venkatesh: "Thank you so much for doing this. The world does need some joy in these dark times." (on the theme Let's Laugh!)