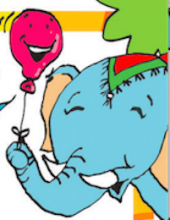 Winners! Junior Grade Category
BOOK RELATED
1st Prize 
Shreeda Parulkar
Euro School, Airoli Mumbai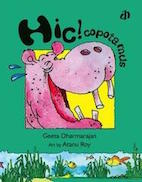 Shreeda's Choice 
Hic!Copotamus
Author: Geeta Dharmarajan 
Publisher: Katha
In the book Hiccopotamus, the story opens up in a funniest and dreamy way. Hawasi's entry is the funniest part I found. Hawasi Hippopotamus hiccups so hard that she comes to India from Africa flying up in the air. I would also love to fly like Hawasi. I wish I had the same sweet trouble of hiccup which will take me to my grandparents at Pune – or cousins at Bengaluru – or at California. I feel this hiccup can be my magic wand.
Also the story of Bondapalli was funny too… I made my mother to fry Bondas at home…but they were not as tasty as they are said to be in the story.
2nd Prize
Parthiv Yochan Arvind
Vibgyor High, Horamavu, Bengaluru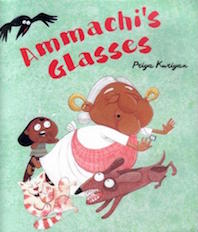 Aarya's choice
Ammachi's Glasses
Author: Priya Kuriyan
Publisher: Tulika

In response to the question, "What part of the book did you find the funniest?" Arvind wrote:
The funniest part was when Ammachi mistook the cat to be a cloth and washed it in the laundry. The cat was half covered with foam and bubbles; Whenever the cat tries to open its mouth, foam and bubbles go in. It is dried too with other clothes. All the remaining animals are laughing. The girl is shocked.
 3rd Prize 
Kaavya Maheshwari 
JBCN International School, Parel, Mumbai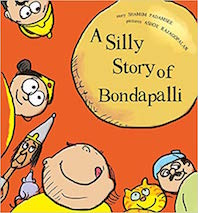 Kaavya's choice
A Silly Story of Bondapalli
Author: Shamim Padamsee
Publisher: Tulika


In response to the question "Which part of the book did you find the funniest?"  Kaavya wrote: 
Funniest part of the story is when everyone turned into Bondas, and the way soldiers bounced on the army of the neighbouring kingdom. If I were a bonda, I would put fevicol on myself and roll around the earth, sticking every human with me, and turning myself into a gigantic BONDA (duplicate Earth). I would call it Kaavya's United EARTH.

            ANECDOTES
(Another option was to narrate a funny incident in their lives. Students came out with rib-tickling stories) 
1st Prize 

Ahaan Jhaveri 
JBCN International School, Parel, Mumbai
My mama (uncle) always pulls my cheeks. One evening I went to my Mama's house.My Nani had given me water , that moment suddenly my mama came and pulled my cheek so all the water I drank went on my Mama's shirt! It was very very very funny !! From that day he never pulled my cheeks !!
2nd Prize
Manomay Patil 
Vibgyor High, Goregaon, Mumbai
I remember a funny incident that happened in my drawing class. We were doing palm painting. A mosquito bite me on my cheek and when I tried to hit the mosquito with my palm, the paint on my palm made a palm impression on my cheek. Everyone started laughing at me.

 3rd Prize
Yuwal Dev Sharma 
Dikshant School, Zirakpur, Punjab 
 
Once I asked everyone in the family to stand together and pose for a photo while I had the mobile camera in my hand. When everyone was giving poses I clicked a selfie instead of their photo. Everyone laughed at me.