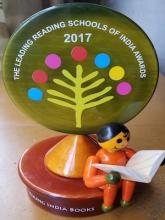 HALL OF FAME
The Leading Reading Schools of India Award, an annual award was established in 2014 by Young India Books; India's foremost review site of children's books, to recognize and honour the five leading schools of the country; schools that believe in the power of the written word and inculcate a love for books and reading. These award-winning progressive schools go the extra mile to ensure that their students are not only readers but also thinkers!
Scools that find a place of honour in the prestigious

Young India Books




 HALL OF FAME 


LRSIA 2019
Theme:  Let's Care 
1st Place
2nd Place
3rd Place
4th Place
5th Place

 

JBCN International School 

Borivali
Dikshant Global School

Zirakpur
Seva Sadan Society

Mumbai
Shikshantar School

Gurgaon

Vibgyor High, Goregaon (W) 

Mumbai
 LRSIA 2018
Theme: Let's Laugh!
1st Place
2nd Place
3rd Place
4th Place
5th Place

JBCN, Parel

Mumbai

Shishuvan, Matunga

Mumbai

Dikshant School

Zirakpur, Punjab

Vidyashilp Academy

Bengaluru

Vibgyor High

Kharghar, Navi Mumbai



 LRSIA 2017
Theme: India Meri Hai
1st Place
2nd Place
3rd Place
4th Place
5th Place

Mumbai

Shishuvan, Matunga

Mumbai

Mumbai

Thanei  

JBCN International

Parel, Mumbai
LRSIA  2016
Theme: You Be the Judge
1st Place
2nd Place
3rd Place
4th Place
5th Place

Cathedral and John Connon

Mumbai

Shikshantar, Gurgaon

Greater Delhii

JBCN International, Borivali

Mumbai

Mumbai  

Don Bosco International

Mumbai



LRSIA 2015
Theme: Wild about Wildlife
 
1st Place
2nd Place
3rd Place
4th Place
5th Place

Vidyashilp Academy

Bangalore

Bombay International School

Mumbai

St Kabir's International 

Vadodara

Shishuvan 

Mumbai  

Bal Bharti Public School

Delhi



LRSIA 2014
Theme: We, The Children of India
1st Place
2nd Place
3rd Place
4th Place
5th Place

Mumbai

Bombay Internatioanl School

Mumbai

Vidyashilp Academy 

Bangalore

Shikshantar, Gurgaon 

Greater Delhi 

Padma Seshadri Bala Bhavan

Chennai