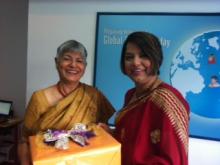 LRSIA 2014 - We, The Children of India
The Leading Reading Schools of India Award, an annual award was established in 2014 by Young India Books; India's foremost review site of children's books, to recognize and honour the five leading schools of the country; schools that believe in the power of the written word and inculcate a love for books and reading.
Theme for LRSIA 2014 - We, the Children of India

"I am thrilled at the fact that - The LEADING READING SCHOOLS of INDIA AWARD 2014 has been organized for students across India. The engaging & unique competitions will surely develop the language and literary abilities of students helping them to showcase their talents. Truly, it's a platform whereby students can hone their writing, reading, imaginative & creative skills. In today's day and age, when students are loosing out on their reading & writing skills, such initiatives should be applauded. Kudos to all those involved in this stupendous effort!" said Dr Vandana Lulla, Director/Principal, Podar International School, Mumbai.
And this is what Mrs Radhika SInha, Principal of the Aditya Birla World Academy, Mumbai, had to say, "We are grateful to Young india Books for organising the nationwide competition, The Leading Reading Schools of India, 2014. Our school children and parents were really excited about the contest. We look forward to more contests of this nature in the future."
The Leading Reading Schools of India for the year 2014 are:
Podar International School, Mumbai
Bombay International School, Mumbai

Vidyashilp Academy, Bangalore

Shikshantar, Gurgaon

Padma Seshadri Bala Bhavan, KK Nagar, Chennai
We, the Children of India, was the theme for the year 2014. It was inspired by the book of the same title by Leila Seth, the first woman high court judge of India.
Thus the books on the recommended reading list  reflected our diversity, traditions and the intrinsic strength and resilience of Indian children from every strata of society. Children submitted great thought-provoking entries, both the written word,as well as the illustrations making life difficult for the panel of judges to make their decision (in fact, we were forced in some cases to give out joint prizes!).
Prizes were awarded to children for the book reviews, illustrations and creation of a game based on the books.
World renowned artist, Akbar Padamsee judged the illustrations and cover designs. When he saw the entries he commented, "These entries are all so good. How do you expect me to make a choice?"
Award-winning author Jerry Pinto judged the final entries of the written word.
Well-known author, Roopa Pai, of the Taranaut series, judged the extremely creative games.
View the prize-winners of the various categories here: 
Book Cover Design and Scene Illustration
Creation of Game based on the Book
Congratulations winners. You do India proud!
·