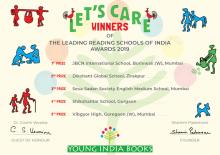 LET'S CARE! Leading Reading Schools Of India Awards 2019
LRSIA has a dual mission: to recognise and applaud schools that go the extra mile to instill a love for reading, as well as, to inspire and encourage children to become discerning readers.

This prestigious award had been initiated by Young India Books in 2014 to applaud and recognise five progressive schools of India for the year. Every year we pick the best Indian books for children according to the theme of the year. This year we focussed on a thought-provoking theme, Let's Care! 

The world today desperately needs some Caring. A helping hand, a warm caring smile all go a long way to make the world a happier and a better place. Hence, to get children to be inspired to Care and Share we selected books that espoused that virtue. 

Schools sent us the year-round programmes conducted in their libraries to excite children about reading and also their initiatives to instill the values of a caring society. Thus sowing the seeds of creating thoughtful and sensitive readers. Based on the theme a list of books written by sensitive and empathetic authors were selected. Students carefully read them and returned with some very thought-provoking responses.  
To pick this year's Winners we were privileged to have Dr Coomi Vevania, an Internationally acclaimed Educator, Writer, Workshop Leader and Storyteller. With a double doctorate she has had several years of experience in both Literature and Education and is committed to helping learners enhance their EQ (Emotional Quotient), SoQ (Social Quotient) and SQ (Spiritual Quotient) through her carefully-researched and highly acclaimed teaching pedagogy "Technopoesis" which brings together both the sciences and the humanities,.
Sixty-one Progressive Schools registered for the event. The selection process was based on a sensitively designed questionnaire that brought out the efforts of the school in encouraging reading as well as creating an empathetic environment in the school. In addition to this, the response and quality of responses submitted was taken into consideration. 
Schools greatly appreciated the event. Here are some of the responses: 
Sunita Monteiro of JBCN Borivali, Mumbai says: being empathic is a concept that is very close to our heart and mind. It is a concept that needs urgent attention and conscious application to attain harmony in our lives. Read More
And the Winning Schools Are...!!
Congratulations Schools!!
Your schools are now featured in the Young India Books
------------------------------------
                                                                             
And the Student Winners Are...!
Junior
Middle-Grade
Senior  
...........................................................................................................................................................
NOTE
............................................................................................................................................................
Many students had come up with such interesting Book Titles and Illustrations, both for Book Covers and Scene Illustrations that we decided to create a special category of winners! We wiil be showcasing the their work over the next couple of days, so do look out for them. We would also like to felicitate Rupa Das of Seva Sadan Society for her attempt to alert youngsters to the lecherous ways of strangers with her very vivid artwork https://bit.ly/2ZHsQtx 
A very big Thank You to all the school Principals, Librarains and Teachers for their whole-hearted participation in Let'Care: Our theme for the Leading Reading Schools of India Awards for 2019.
Thank you to all Students. We see that most of you have done some soul-searching whilst reading the books and imbibing the subtle messages of Caring and Sharing.  We are confident that with all you of and others like you the world sure will be a better place!
Thank you Dr Coomi Vevania for going through the school submissions and zooming onto the top five that you feel are providing a nurturing and encouraging environment to the students in their libraries.

Thank you authors and publishers for bringing out such wonderful thought-provoking books. Authors we appreciate the time spent by you to go through the student submissions and evaluating them and are also grateful to Samir Kapadia in helping us with the selection of books

Every year we attempt to create new visuals in keeping with the theme of the Awards. This year we are grateful to Uma Krishnaswamy, Denver Fernandes and Nishka Dabriwala for the creative artwork in the Warli style.
Thank you to Mehdi Maurivard for providing us backend support and other innumerable help to Young India Books.
And last but not least a big Thank You to Donna Reen for her invaluable help in conducting the Leading Reading Schools of India Awards.

<<<<<<<<<<<<<<<<<<<<<>>>>>>>>>>>>>>>>>>>>>>>>>

Note to all parents and school authorities: We understand that you and your wards have put in heart and soul to participate in the event and hope that the students enjoyed reading the books and mulling over its message. Some of you may feel that your efforts need to be rewarded. Sadly, there can only be a few winners, though often it must have bee