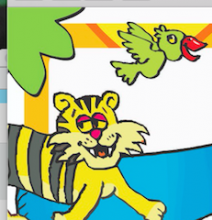 Winners! MIddle-Grade Category

BOOK RELATED

1st Prize 
Amogh Rao
Vibgyor Roots and Rise, Mumbai
 
Amogh's Choice 
Run, it's Butterfingers Again!
Author: Khyrunnisa A. 
Publisher: Puffin
Run, Its Butterfingers Again! is about a boy named Amar Kishen, called Butterfingers by his friends because he is always dropping things. However, many a times, his clumsiness brings him good fortune. The funniest story is "Trouble with a Beard" wherein, Amar wants to grow a beard like his father. It starts with him trying to grow a beard and rejoicing when he mistakes a pen mark and mud on his face for initial signs of a beard. To his delight, he gets a false beard from his cousin. He muddling up the word "Mercutio" with "Mercury" is also innocently-funny. The house maid's reaction on seeing him brandishing a knife, dressed up as a pirate, is comical and I could imagine myself in his place. The best part is when Amar tries to pull off the beard of a man who, he thinks has stolen his false beard, but the man is in fact a thief who was trying to get an impression of the store's key for robbing it. I was in splits, during this scene. To overcome his sorrow of losing his beard, the shop owner gifts him a false moustache, much to the distress of his father.
2nd Prize
Kashyap Jalali
Vidyashilp Academy, Bengaluru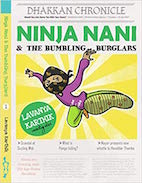 Kashyap's Choice
Ninja Nani and the Bungling Burglars 
Author: Lavanya Karthik
Publisher: Duckbill
Once Nani told Deepu that cartoons are bad for your eyes and that they will rot your bones and ruin your teeth so that's why we should watch the dal-makhani show. (hahahaha. How can cartoon rot teeth!!)
Actually, both Nani and Deepu wanted to watch their show. They both started to fight and tried to snatch the remote from each other. Both the shows started switching back and forth every second. (Imagine!!)
Soon Deepu toppled off the sofa and fell on his bums. He got up but again went flying and landed up-side-down on an overgrown cactus. (Ouch)
After he unhooked himself he saw that the whole room was a mess like always, but most of all nani has became ninja dragon morimori!! (WHATTTTTTTTTTT?????????? )
3rd Prize 
Divjot Singh Chadha
Vibgyor HighElectronic City, Bengaluru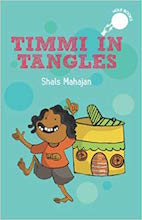 Divjot's choice
Timmi in Tangles 
Author: Shals Mahajan
Publisher: Duckbill
In this book Timmi in Tangles whose author is Shals Mahajan.The funniest part is when Timmi ate 5 idlis and idli-amma ate 11 idlis and when Timmi did not listen to idli-mamas stories and idli-Amma started jumping on her stomach and makes hungry noises until she shouts at idli-Amma.Then Timmi goes to bed but idli-amma makes the bricks and books fall on her and Timmi gets a stomach ache and when her mother comes home and hugs her she cries and explain why her stomach hurt but her mother thinks it's a dream.But then Kamal Mausistarts laughing until tears pour out of eyes and tell that Timmi ate 16 idlis and went to bed due to which she he'd a very bad stomach ache. Then Timmi's mother goes to the kitchen and bring hinge oil to apply on Timmi's stomach and she gives Timmi two drops of hinge oil which make her burp again and again .Timmi's mother does the same thing which makes her blow up like a balloon and then she burps loudly and gently comes back to her bed.I found this hilarious as Timmi blows up and burps again and again which is very funny.
For Anecdote
1st Prize 
Mishti Manglani
Shishuvan, Mumbai
My family along with my relatives had gone to Lonavla or an annual family outing. It was a small bungalow and there were many of us. My four cousins and I had got a whole room to us; it was like a girl's night out. After dinner we four cousins went to our room and I heard a weird noise in our bathroom. The noise sounded like burglars who had just crashed in our bathroom. My sister had suggested that, and I got really scared. One of my cousins heard it too, she was really a scaredy cat like me and we rushed to tell our parents. Our parents immediately grabbed pillows, phones and maybe a stick. Soon everyone was in our room from the elders to the one year old kid. Everyone were at their toes with some kind of weapon each of them thought that it were safe. My father opened the door of the bathroom and a cat screeched and ran over. I screamed, my sister screamed and then all the kids who were in their pyjamas. After that all of us went in the living room and had a hearty laugh over it.
2nd Prize
Leepakshi Tikoo
Vibgyor High, Kharghar, Navi Mumbai

I am good at the art of imitating others. One of my favourite funny incidents is when I was caught imitating my grandpa. My grandpa has a very loud and strict voice tone. One day as he was talking on phone, I started imitating him in front of the mirror in the other room. I had no idea that I am being watched by my grandma. She secretly called grandpa and showed him how I was imitating him. Suddenly I realized that I am being watched. We all began to laugh. Then my grandpa hugged me and said, "Well Done my Guddu!". Guddu is my nickname.


 3rd Prize
Vidhaan Sharma
Vibgyor High Goregaon, Mumbai 
This was an unforgettable incident that happened in my life. One fine evening, when I was at home, my friends, also known as the Super Six, knocked at my door. I opened it and me and my brother started talking about many things with them because of a conflict going on outside between the Super Six and a group of people who we call "Big Boys".While my brother was talking, he was leaning on the wall and standing on the doormat. However, the mat was slowly sliding across the floor, and before he knew it, he was sitting on the floor. All of us started laughing. It was the funniest incident of my life!