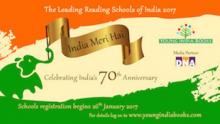 LRSIA 2017 - India Meri Hai
2017: India's 70th year of Independence - A landmark year!
The Leading Reading Schools of India Awards (LRSIA) was initiated in the year 2014 with the objective of creating sensitive readers and aware citizens who care for our land, its people, environment and heritage. Every year children read from a list of recommended books and then send in their entries according to the theme for the year. In the year 2014 the theme was We, the Children of India; in 2015, it was Wild About Wildlife, whereas in 2016, You Are the Judge, wherein children zoomed into the books that they loved the most, resulting in the Children's Choice Award.
To commemorate the historic occasion of India's 70th year of Independence, Young India Books brought to you India Meri Hai 
A short video "India Meri Hai" was specially produced to share with your kids - in classrooms or at home. India's leading wildlife photographers contributed to making this an inspirational video. 
After all, India Teri, India Meri, India Sabki Hai
A message to the children from Jamshyd Godrej, President of WWF (India)
Dear Children,
As a country, we are endowed with vivid and varied cultures, geographies and life forms hat need to be preserved for the present generation and the generations to come. I wish to compliment the makers of this film (Young India Books) for their attempt to strengthen our efforts in educating you, the children of this country about its rich and invaluable heritage- natural, cultural and historical, and drive home the message on the importance of conserving and protecting our surroundings – air, water, land, flora and fauna.
As the future torchbearers of this country, you must make a pledge on what each one of you can do to protect and cherish your country's heritage.
I appreciate the support lent by the nature and wildlife photographers who have contributed their images for this cause.
I would also congratulate Young India books, which is at the forefront of creating awareness amongst school students about the precarious position of our wildlife as we try to protect our fragile ecosystems.
I hope that these efforts will continue and make you more aware as adults when you are at the helm of affairs in the country.
Jamshyd Godrej
President WWF-India
There was an overwhelming response from schools. Sixty-one leading schools of the country registered for this prestigious event. 
The winners are...
1st: Vibgyor High, Goregaon, Mumbai
2nd: SHISHUVAN, Matunga, Mumbai
3rd: EURO SCHOOL, Airoli, Navi Mumbai
4th: LODHA WORLD SCHOOL, Thane
5th: JBCN INTERNATIONAL, Parel, Mumbai
Winning Students for LRSIA 2017 Are...
Junior Category
1st Prize: Darsh Yadav - JBCN International, Mumbai 
2nd Prize: Saurish Swamy - JBCN, Borivali, Mumbai
3rd Prize: Aahan Vyas - JBCN, Borivali, Mumbai
Consolation Prize: Tanmay Darsh - Vibgyor High, Jakkur, Bangalore 
Middle-Grade Category
1st Prize: Jeel Jain - Smt. Surajba Vidya Mandir, Jogeshwari, Mumbai
2nd Prize: Ananya Rajaram - The Universal School, Ghatkopar, Mumbai
3rd Prize: Naavya Kedia - The Cathedral and John Connon Middle School, Mumbai
Consolation Prize: Harsha Ahmed - Vibgyor High, Kadugodi, Bangalore
Senior Grade Category
1st Prize: Simran Zaveri - JBCN International, Parel, Mumbai
2nd Prize: Mantasha Malik - Diamond Jubilee High School for Girls, Dongri, Mumbai
3rd Prize: Deepaanwita Panda - Vibgyor High, NIBM, Pune
Consolation Prize: Humera Toofani - Diamond Jubilee High School for Girls, Dongri, Mumbai
A Big Thank You To

Ruskin Bond
for kindly agreeing to be our Guest-of-Honour for this year's LRSIA.
Mr Jamshyd Godrej
 - President, World Wildlife Fund India - for the very touching message.
Kavita Anand
 of Adhyayan for your help and support in developing the criteria for the best library practices.
Authors
for spending agonising hours evaluating the submissions
Photographers
 for so readily loaning us the use of your amazing images for the video 
India Meri Hai
 (names on the video)
Children and Muscians
 for the rendition of the song 
India Meri Hai
 (names on the video)
And last but not least, participating schools, librarians, teachers, parents and children for your whole-hearted response.


These Progressive Schools had registered. A Big Thank You to their teams!

A Special mention of the students, teachers and volunteers of Seva Sadan's Primary English Medium School, for going the extra mile.
Thank you also team LRSIA without your whole-hearted support this event would not have been possible.
Ruhi Gurjar for help in producing the video.
Donna Reen for unstinting suppport to LRSIA.
Michel Maurivard for all your back-end support.