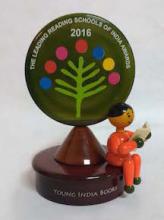 Young India Books HALL OF FAME
Why participate in LRSIA?
Many schools encourage their students to read. LRSIA encourages a child to read deeper into a book and understand the message and the underlying issues conveyed.
Because, information gained from mere reading is Knowledge. Whereas, Wisdom is the understanding and application of that knowledge.
Why is it Important?
Beacuse, grasping the knowledge gained by reading deeper into a book and distilling that understanding enables a child to not only know why or what something is, but also how it applies to one's life thus illuminating the path to Wisdom.
What is the Young India Books HALL OF FAME?
Winners of this prestigious award over the last five years have been at the forefront of finding creative ways and means to engage and encourage their students on the path of becoming discerning readers and the results show! Their students have come up with some amazing thought-provoking responses. 
They have rightly earned their place in the Young India Books HALL OF FAME
REGISTER HERE NOW to enable your school to be on the Young India Books HALL OF FAME for the year 2019