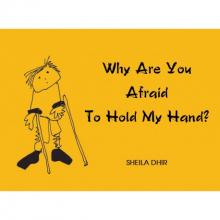 International Day of Persons with Disabilities
Note: 3rd December has been designated by the UN as International Day of Persons with Disabilities. Perhaps it would be a good idea that this day could be widely celebrated in India as well, for there are more than 12 million children suffering from some kind of disability or another in our country.

"Why are you Afraid to Hold My Hand?" The heart-wrenching title of the book by Sheila Dhir and published by Tulika pretty much sums up the angst that a child with a physical disability must experience. Ranging from outright rejection to looks of pity, sometimes even derisive remarks, all must hurt them so much. 
Why does it have to be this way? After all, every child is different – in looks, tradition, cuisine, language and others. All of that is acceptable, well, mostly so. However, deep inside every child is the same. They all feel the same emotions of joy, sadness, happiness and hurt. They all need to feel loved and to be valued. They all need to be appreciated and encouraged. They all need to feel emotionally secure and, by and large they all do so at home, in school and in society. at large. So, why are children who are merely physically different, left out from this very essential building block of emotional growth?

Is it because society has segregated them? By creating special schools for children with disabilities instead of integrating them in mainstream ones?
Is it because they have no access to playgrounds and other public spaces? Hence, out of sight is out of mind?
Is it merely because of lack of awareness?

Happily, the last factor is now being addressed. The radar has now shifted. Books are getting more and more inclusive. Publishers are waking up to the fact that books featuring the disabled can and should find space on physical as well as emotional bookshelves of all children. There is suddenly a spurt in books being published in India with children with a range of disabilities as protagonists, and what is even better is that not a single one of them are disabled children, portrayed as bechara, children to be pitied and needing help and support. Rather theyare gutsy little kids doing their own thing in their own happy ways. This is the first big step towards integration. Hope the others will soon follow.

A note from Aliya Anjarwala, a mother of a disabled child: As a mother to a disabled child, I understand how important representation is. My son rarely sees children who are in a wheelchair like him – in the cartoons he watches on TV, and the books he reads, all the characters can walk. This perpetuates the feeling that he is different from his friends, that he is not 'normal', that he does not belong. This is why collections of stories like these are so important.

Kudos to all of you progressive publishers! 
Young India Books invited three progressive publshers to share their views.
Sayoni Basu started Duckbill, in 2012, with Anushka Ravishankar. They publish books for children and young adults, Many of their books have won national and international awards and they were shortlisted for the London Book Fair International Excellence Awards in 2015. 

Radhika Menon, a pioneer of children's books in India having set up Tulika Publishers in 1996 with a strong belief that books play an important role in a child's emotional and mental growth. She has published more than 1000 titles to date! 
Yamini Vijayan, an editor with Pratham Books, is in charge of anchoring and curating content for Pratham's digital venture - StoryWeaver (https://storyweaver.org.in/) - an online repository of openly licensed children's stories in multiple Indian languages.

Questions posed to the publishers:

Do you face any challenges on marketing books focusing on disabilities to schools?


Sayoni Basu: Not at all.

Radhika Menon: Schools when they come to know of the books are keen on getting the books. There is a greater awareness of disability and and  understanding that books are the best way to sensitise children. So it has been encouraging. Though given the number of schools it should be much more - but that is true of books in general.
Yamini Vijayan: The market is certainly ready for books that portray all kinds of disability. It is up to publishers to find more such stories that deal with disability in ways that feel authentic and real. The idea, after all, is to build empathy and acceptance through such stories, and not ever to evoke a sense of sympathy. It is to bring a sense of "normalcy" to what is seen as "differences".

How about the parents? Are they interested in getting such books for ther children?


Sayoni Basu: None whatsoever.



Radhika Menon: My impression is that parents are much less aware of the need to introduce their children to such book don't see the books as opening valuable discussions about disabilities with their children. It is parents of children with disabilities who respond most enthusiastically as for so long there has been silence on differently abled children. 

 Yamini Vijayan: Books like these are being well received by institutions and they appreciate publishers raising these concerns through children's books. We haven't encountered any challenges or hesitation on any front - in fact, most people appreciate that the books help create greater awareness.

: Most importantly how are they being received by children?


Sayon Basu: The kids who read it and got in touch loved the books. (But then kids who do not like the books would not bother to get in touch!) Parag did a study of kids responded to the Children First books on their blog. 



Radhika Menon: Children are open to all kinds of stories and at book reading sessions the responses are as enthusiastic to these books as others. We also know that they are no angels and can be quite cruel to children who are different in any way. In fact the books like Kanna Panna and I Didn't Understand talk about this. Imaginative books offer great opportunities to open conversations around disabilities which is the first step to sensitise them. 

 Yamini Vijayan: Children are very receptive, especially when the voices of the central characters - are natural and real. For example, in A Helping Hand, while the story did tackle disability very sensitively, it was also about friendship and fitting in - something we all experience and grapple with.

 Any advice to writers wanting to write books portraying children with disabilities?


Sayoni Basu: I think the reason that we loved and published the books we did was because they did a brilliant job of showing that the kids were indeed children first, with the same diverse dreams, hopes, abilities and quirks. So our advice to writers is to remember that--disability is just a part of the child, and not what defines her.

Radhika Menon: We find that we get many more manuscripts on themes of physical, emotional and mental challenges. Tulika has published 6 books so far and over 10 others featuring children with different abilities. The latest one, I Didn't Understand by Mini Srinivasan has just been released.

Yamini Vijayan: Research. Don't explain differently-abled to an abled child, something that often ends up happening.
It would be great to see more books with differently-abled protagonists, who are part of the narrative and have agency.
 
Here's some the best Indian books for children on disabilities.