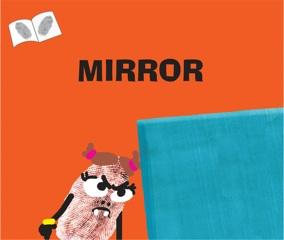 Mirror
Themes:
humour
creativity
Genre:
picture book, fiction

Babies love looking at their images in a mirror. Later, as they gain more control of their facial muscles they often entertain themselves by making all kinds of faces in it.
Taking off from this very simple yet enjoyable activity, the author has Thumb Thumb Thangi – a little fingerprint character, engage in making faces into a mirror. However, matters take a frightening turn when she succeeds in making a really scary face, and sees the equally ferocious looking reflection.
With great presence of mind, little Thumb Thumb Thangi resolves the problem by making a frightened look. The image in the mirror too, looks appropriately scared, and a relieved Thumb Thumb Thangi is happy once again.
Parents can use this story to talk about the pictures and also to create games around this simple concept, thus encouraging the creativity in the child.
Simple uncluttered illustrations with bright colours and very few words, this little book will keep the child delighted and engaged.

This book is also available in Hindi, Tamil, Kannada, Telugu, Malayalam, Marathi, Gujarati and Bangla.

Reviewed by Shamim Padamsee