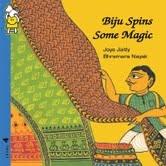 Part of a series of four books illustrated in the folk art traditions of India by Pratham, this book takes one on an educative journey on the amazing art of weaving 'Ikat' and the weavers who make it happen. It has been brought out by Dastkari Haat Samiti, an organisation of Indian craftspeople and supported by UNESCO.
A simple yet effective story of Biju, a young weaver boy and his life in a little village in Orissa, Jaitley successfully blends the struggles and hardships that he and his family, and maybe, the entire community face, in spite of their phenomenal talent and skill in weaving.
The author also gently slips in young Biju's hopes and aspirations for his future and also his fears as he ventures into the city with his father to sell the saris that they have woven. There he meets the son of a rich buyer. At first Biju, is daunted by the affluence surrounding the boy and all his possessions. However, he succeeds in holding on to his own and impresses the city boy with his skill. In the process he realizes that he too had something of value to impart and felt 'proud and big and very important'.
The thorough understanding that the author possesses of the various aspects of 'Ikat weaving', gives an authentic ring to the story, however, with some pages being text heavy, the book may deter some young readers. All the same, it succeeds in enhancing one's appreciation for this craft and also helps us understand and appreciate the difficult conditions in which our artisans live.
Beautifully illustrated in the patachitra style of Orissa, the book will be a great tool in the hands of a teacher to discuss in class the weaving community and the different styles of the rich and varied tradition of weaving in India.
An urban child will benefit from this insight into the life of a child in a weaver's community and as this book is also translated in many different Indian languages, hopefully, it will reach into the hands of a weaver's child imparting a sense of pride in his work and his rich heritage.
A great book to introduce children to the rich and varied folk art traditions of India.
Indian books for children, books on India for kids, Indian stories for children, book reviews of Indian books, India, books, kids, children, stories, Indian books, kids books


Reviewed by Shamim Padamsee