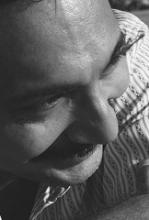 Ashok Rajagopalan
Books by Ashok Rajagopalan

A name like Gajapati Kulapati is enough to bring the laughter back into storytelling, and Ashok Rajagopalan doesn't quite stop with just the name.The...
Themes:
animals, elephants, humour
Age group :
3+ yrs

A perfectly delightful tale. One that has all the ingredients in place to make it a favourite read of children, younger and somewhat older ones...
Themes:
animal stories, elephants, humour, read-aloud stories, summer
Age group :
0-3 yrs