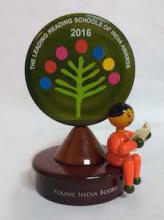 The Trophy
This unique trophy has been specially crafted and manufactured in Channapatna, the toy town of Karnataka, near Mysore city.
The origin of the toys can be traced to the reign Tipu Sultan who invited artisans from Persia to train the local artisans in the making of wooden toys. 
Using locally grown wood, women chisel and shape the toys using hand-held lathes. Next the toys are coloured with vegetable dyes to ensure that the toys and dolls are safe for use by children, and finally polished to a glossy finish using lac from the bark of a tree. Maunfacturing stages include procuring the wood, seasoning the wood, cutting the wood into the desired shapes, pruning and carving the toys, applying the colours and finally polishing the finished product.
This traditional craft is protected as a geographical indication (GI) under the World Trade Organization
Sadly, it is now languishing owing to the advent of cheap plastic toys. Through this trophy Young India Books would like to pique the child's interest in our traditional art forms.