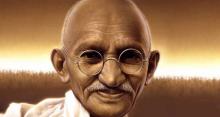 Mahatma Gandhi - A Brief Overview
M.K. Gandhi, a Bar-at-Law, alias a naked fakir, as Sir Winston Churchil was wont to call him, began his social activism in South Africa in the early 1900's as an Indian immigrant. Once there he observed the rampant discrimination against the Indians and the local populace. He even experienced it first-hand when once on a train journey to Pretoria he was ordered by the  white stagecoach driver to give up his seat to a Eurpean passenger. Gandhi who was holding a valid first-class ticket, refused.angered the driver threw him out of the train. That train journey served as the turning point for Gandhi. He decided to lauch his fight against injustice. The satyagraha movement was born.

A Brief Overview:
Gandhi was born on October 2, 1869, at Porbandar, in the present-day Indian state of Gujarat. His father was the dewan (chief minister) of Porbandar. At the age of 19, Mohandas left home to study law in London at the Inner Temple.

When he returned to India in mid-1891, he set up a law practice in Bombay, but met with little success. When an Indian firm offered him a position in South Africa he readily accepted and left with his wife, Kasturbai, and their children.

Gandhi remained in South Africa for nearly 20 years there he led a campaign of civil disobedience that lasted for eight years. Hundreds of Indians were thrown into jail, were flogged and even shot. However, finally, the government caved in. The Indians got some important concessions. Mission successful Gandhi left for India.
In 1919, Gandhi launched satyagraha nonviolent non-cooperation campaign for home rule. He advocated the manufacture of khadi cloth to replace imported textiles from Britain and also called for the boycott of all British goods. The colonial government levied a tax on salt. Aware of the impact that it would have on the country, especially the poor, he decided to launch a new cilivil disobedience movent and make our own salt. With thousands of followers he marched from Dandi to Bombay
In 1931, Gandhi attended the Round Table Conference in London on behalf of the Indian National Congress. It was at that time that Sir Winston Churchill called him "the half-naked fakir." 

On his return Gandhi began a series of hunger strikes in protest of the treatment of India's so-called "untouchables" (the poorer classes), whom he renamed Harijans, or "children of God."

In 1934, Gandhi had announced his retirement from politics in, as well as his resignation from the Congress Party, as he wanted to work within rural communities. However, when World War 2 broke out he was drawn back into active politics.
To fight the war, the British needed the help of the Indian army. Gandhi agreed on the condition that the British withdrew from India in return for the cooperation. When the war ended, negotiations over Indian home rule began. Finally, in 1947 Britain granted India its independence but split the country into two dominions: India and Pakistan.
On 30th January 1948, Gandhi was on his way to an evening prayer meeting in Delhi when he was shot to death by Nathuram Godse, a Hindu fanatic. The shocked nation, more than a million strong, poured out from their homes to accompany Gandhi's body through the streets of the city up to the banks of the holy Yamuna River where he was cremated.

Gandhi is revered all over the world to this day. His portraits hand in many galleries and statues of him stand in many a public square in different parts of the world. His work has gained the admiration of people around the globe and many a freedom fighter, such as Nelson Mandela, Martin Luther King, Jr., and others have followed his path of non-violence to achieve their goals.
And to this day his words of wisdom still inspire and resonate in many a heart.