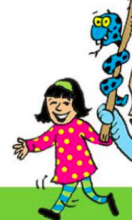 Winners! LRSIA 2018 - Senior Grade
BOOK RELATED
1st Prize 
Shamruddhi Shelke
Diamond Jubilee High School, Mumbai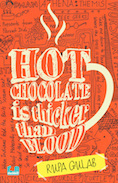 Samruddhi's Choice 
Hot Chocolate is Thicker than Blood
Author: Rupa Gulab 
Publisher: Duckbill
In response to the question, "What part of the book did you find the funniest?" Samruddhi wrote:
The book Hot Chocolate is Thicker than Blood is a fictional autobiography of a girl named Anu and she talks abundantly about how different the situation would be if her elder sister Diya was with her. These thoughts came to her as a result of her being constantly compared with her sister who has already passed out from the same school. There were many funny incidents which took place in the story but the part which I thought was the most funniest was one will the author along with the classmates was asked to dissect a cockroach.
In this scene the author and her classmates were not ready to do the dissection. They were asked to do this as part of the year practicals which carry 20 marks. The author was shivering and squealing and her classmates were tensed too because the Cockroaches were not dead, but alive and were just made unconscious with the help of chloroform. On realising that the students were reluctant to perform the experiment Mrs Roy got Furious and gave a stern lecture for not being serious about the 10th board exams. The lecture given by Mrs Roy was so long that the effect of chloroform of the Cockroaches was wearing-of. Several upended Cockroaches wave there hairy legs in the air and a few were spotted crawling across the lab. Then an exceptionally fat and big one fluttered its wings and launched drunkenly into the air.

Everyone in the class, apart from Mrs Roy began screaming there was a mad scramble that finally led to a stampede to the door and the author was dragged into the principal office, and was left alone facing all the consequences.
2nd Prize
Aarya Sanjay Nadkarni
Shishuvan English Medium School, Mumbai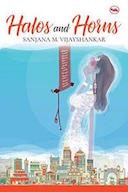 Aarya's choice
Halos and Horns
Author: Sanjana M. Vijayshankar
Publisher: Red Turtle
In response to the question, "What part of the book did you find the funniest?" Aarya wrote:
Halos and Horns is a quite a unique book. The storyline is truly imaginative and is filled with contradictions. With the dreadful prospect of death , the author has elavated the mood of the readers by adding loads of witful sarcastic comments with a pinch of humour. The part which amused me the most was how she and Serendipity unite Nikhil (Arundhati's former crush) and Vandana( the NERD of the year). It was really fascinating to see how she interpreted the meaning of the task given by SATAN in such an optimistic way. The task said," Cause an accident. I'm talking about roads paved with jam here.' 
So the plan went on like this; After the small quarrel, Vandana and Nikhil went off their own ways. Thus, to prepone the date, Arundhati entered Vandana's body and raced towards the entrance. As per the plans, she deliberately dashed into Nikhil. Where in the fruit JAM in her purse soared through the air and splashed all over the PAVEMENT causing a happy accident. I really enjoyed that part.
 3rd Prize 
Nyrika Nooreyezdan
Bombay International School, Mumbai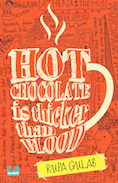 Nyrika's choice
Hot chocolate is Thicker than Blood 
Author: Rupa Gulab
Publisher: Duckbill


In response to the question "Which part of the book did you find the funniest?"  Nyrika wrote: 
Rupa Gulab manages to pack various emotions into one truly amazing story about Anuradha and her adopted sister, Diya. 'Hot chocolate is Thicker than Blood' will make you fill buckets with tears, gasp with disbelief, scream with frustration, quake with anger and, most importantly, laugh uncontrollably. Though superstition preying on uneducated and gullible minds is a very serious problem, Gulab has taken a more light- hearted view. This is clearly depicted by Parvati Didi, an eccentric and highly superstitious character that made me laugh the most. I especially liked it when she thought that the reason for Diya's horrible behaviour was that demons had possessed her soul and tried to use foul smelling agarbattis to drive them away.

One of the reasons why Parvati Didi made me laugh is because she reminds me of my sister, who, though not as superstitious as Parvati Didi, has to bang heads a second time for good luck and insists that the doorbell must be rung six times as that's her lucky number. Another reason why I think it's worthy of being the funniest aspect of the story is because of Anuradha's reaction to Parvati's agarbattis and other ridiculous thoughts. You can't help but laugh at her snide remarks and disgusted expressions. 
Who wouldn't laugh at the crazy, superstitious Parvati Didi?

About her experience on winning and about Let's Laugh! Nyrika says;
"Usually, when you have won an award, you find out through an announcement or email or anything that seems official. When I secured third place in this competition I found out about it in school from my math teacher. At first, I don't think I fully comprehended that I had just won third place. As the day went on and it started to sink in, I was filled with a strange mixture of joy and pride. I think the part that I enjoyed the most about participating (aside from winning of course) was being introduced to a fantastic book that is definitely one of my favourites. Thank you so much for allowing me to showcase my writing!"

            ANECDOTES
(Another option was to narrate a funny incident in their lives. Students came out with rib-tickling stories) 
1st Prize 
Saakshi Birla Krishnaswami 
Vidyashilp Academy, Bengaluru

When I was about five years old, my family and I had gone on a road trip with some of our relatives. I was in a car with my cousins and my parents were in the car ahead of us. After a lot of terrible singing, laughing and sleeping, we came upon a field parallel to the road we were driving on. And what a sight it was! We saw beautiful animals. Wild boar and majestic elephants and prancing deer are the animals that I remember distinctly. When we reached our destination, I enthusiastically ran to my parents and said with absolute awe, "Did you guys see the rasam?" At first they were so confused. I was waving my arms frantically and screaming, "The rasam! The deer! How did you not see the rasam?" And after what felt like years of me describing the "rasam" to my parents, my mother finally says, " Ummm..do you mean the sambar?". Suffice to say that was one of the most embarrassing moments of my life.
About her experience on winning and about Let's Laugh! Saakshi says;
"When I first found out my school had won, I was absolutely overjoyed. Later, when I realised my name was on the website, I probably refreshed it a million times to make sure it was real! It was an amazing feeling to see that I had won. It was also the best birthday gift I could have asked for!
(Yes, it was my birthday when the results were published) This just gives me motivation to keep writing and reading, and also to keep doing embarrassing things so I can write about it and bring laughter into other people's lives!"
2nd Prize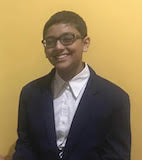 Aditya Sudarshan
Vibgyor High, Marathahalli, Bengaluru
I hated going to wedding receptions, especially if it is my mother's distant cousin's. However, my tantrums were of no use and my mom succeeded in easily dragging me along with her. As soon as we entered the hall, we were ushered to the dining room and were asked to congratulate the newly wedded couple later. The food was a sight to my sore eyes and we interested ourselves with the delicacies. A few people came to converse with my mother. She introduced herself and the folks talked about various anecdotes in my grandmother's life. My mom was perplexed as many of these incidents did not tally with my grandmother's character. 

After having a sumptuous meal, we stood in the long queue to congratulate the couple. As we neared the dais, my Mom realised that she had no clue who the bride and the groom were. WE HAD GATE-CRASHED into a stranger's wedding! We slowly sneaked out of the wedding hall only to find that our intended wedding was in the next hall. We sheepishly entered the 'correct' wedding only to be ushered to the dining hall once again…
I still pull my mom's legs about this funny incident.
About his experience on winning and about Let's Laugh! Aditya says;
"I am extremely delighted that my article is chosen by Young India Books' as one of the winning entries. This has now encouraged me to write more. I really appreciate the programme as this not only encourages Indian writers, but also young readers like us to read books written by Indian authors. Thank you very much!"

 3rd Prize
Yusra Qureshi
Avicenna International School, Mumbai (IGCSE)

The day came when my cousins were arriving. We were really excited and also woke up early to prepare the house for the guests. My mom was cooking. My dad, brother and my sisters were doing their own work. I was given the task to make a musk melon juice. It was an immense task for me because I was preparing it for the first time. My mother did everything, all I had to do was put sugar and water and just mix it. My mother put the musk melon pieces in the juicer, I put sugar and finally I had to put cold water. I opened the fridge and I saw two water bottles. I had to put the whole bottle of water, so I put it and then my mom came and mixed it for me. My cousins arrived, had food happily, finally my mother served them the juice. They drank a little and their faces showed a weird expression. But we dint realize it. After the guests went, we tasted the juice it was very sour. My mom asked me which bottle of water did I put. so I showed her the bottle and then my mother said that it was vinegar. After that we started laughing, and my younger sister laughed so much that she fell off the bed. I was so embarrassed.