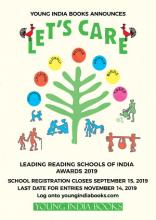 "LET'S CARE" LRSIA THEME FOR 2019
THANK YOU schools for registering. We now look forward to your students' submissions on what aspect of Caring excites them. Please advice them to select a book from the Recommended Reading List, read the Guidelines for Participation carefully and then submit their entry in the Student Submission Form
ABOUT LRSIA
LRSIA has a dual mission: to recognise and applaud schools that go the extra mile to instil a love for reading, as well as, to inspire and encourage children to become discerning readers.  
Initiated in 2014, every year five schools enter the prestigious Young India Books HALL OF FAME for the exemplary work in their schools and libraries. They also receive a beautiful hand-crafted TROPHY

Principals, librarians, parents, authors and students have all enjoyed and appreciated this event and Letters of Appreciation have been pouring in!

Year after year, we have been fortunate to have as our panelists, judges and well-wishers, eminent personalities who have been a tremendous support and source of encouragement to us.
This year too, we have Dr Coomi S. Vevaina as our chief judge. She will select the top five Leading Reading Schools of India for the year 2019.
Thank you Dr Coomi for your time and valuable inputs. We appreciate your support towards our goal of honouring and applauding schools, their librarians and teachers that go the extra mile to create avid readers and discerning thinkers.
Every year we pick the best of Indian books for children according to the current theme. They read. They understand. They appreciate the message. They stand to win. This year's theme is "Let's Care."
Themes selected in previous years were: 
2018: Let's Laugh!
2017: India Meri Hai
2016: You Be the Judge
2015: Wild About Wildlife
2014: We, the Children of India 
These Progressive Schools Have Registered!

Guidelines for Student Participation: Or, what do students have to do?