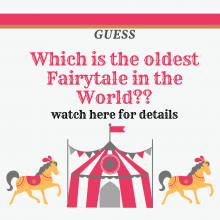 Guess which are the Oldest Fairytales in the World??
There are Fairytales galore - something for everyone.
Poignant tales, magical tales, humorous tales.
Tales of witches, magicians, ogres and fairy.
Tales of bravery, quick-witted protagonists and dare-devilry.
Tales that we loved as children and somehow still resonate in our hearts today.
Do you know which are the oldest fairytales in the WORLD??