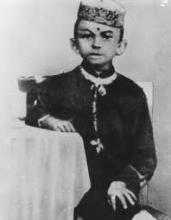 De-mystifying Gandhi for Kids
Gandhi is revered the world over as one of history's most transformational and inspiring figures. His strong sense of justice for the downtrodden, belief in ethical behavior and freedom from tyranny was the cornerstone of his life. He fought injustice, but without weapons. Ahimsa, (non-violence) and civil disobedience, (satyagraha) his way of fighting battles left a strong impression on the world so much so that October 2nd, his birthday has been designated as International Day of Non-Violence. 
Legendary leaders such as, Martin Luther King Jr, Nelson Mandela and others from over four continents and twelve countries took a page from his book to fight tyranny and/or obtain justice! He has a great fan-following even to this day. To honour him world over his statues have been installed in public squares and parks and fifty-three major roads within India and forty-eight international ones. Even Great Britain against whose rule he led so many agitations, felt compelled to issue a stamp in his memory. Over the years Gandhi gained many friends and admirers all over the world. He inspired and continues to inspire with his dedication and philosophy of life.
__________________________________________________________________________________________
Mahatma Gandhi became a Beacon of Inspiration for all those who opposed injustice
__________________________________________________________________________________________
So who was Gandhi? How did he achieve such a great following?
Was he born great? Was he royalty? Was he a genius?

NO. He was none of the above. If we zoom into his childhood we see that he struggled like most other kids.

He was an average student. He was mediocre in maths, was poor in geography and not very proficient in sports, either. 

He had bad hand-writing. His professors in London, too, complained about it and his friends made fun of him! 
So one wonders how some one with such bad handwriting became a prolific letter-writer and maintained regular correspondence with luminaries such as, Leo Tolstoy, Einstein, Charlie Chaplain and others. He even wrote to Hitler, requesting him to not go to war!
Wonder how they deciphered his writing? Hmmm…

He had an acute fear of speaking in public. After he had returned to India, he left for Bombay (now Mumbai) to try his luck at the bar. However, during his very first case when he had to appear in court and make his pitch to the judge, he panicked and bolted from the courtroom! At an event in the London Vegetarian Society, he was asked to talk about the benefits of vegetarianism. Owing to his fear of public speaking he had decided to read out a written speech. However, after reading the first few lines, he had a panic attack and handed over the page to someone else to read. "My vision became blurred and I began to tremble," he recalled once. Wonder how he managed to deliver so many speeches during his lifetime? Hmmm…Why was he successful? The answer is not difficult to find. 

He was a man of determination and persistence. He had a burning passion for self-improvement. He had enrolled in a High School in Bombay and had to struggle to follow his teacher as he was weak in English. So when he was in London to study law, he decided to study English and Latin as his subjects for the Matriculation Exam in the University of London. Whether it was academics or politics, once he set his sights on something, he pursued it undeterred by threats, or obstacles.
He was a man with a Mission and a Vision.
As he has often stated he could not stand injustice being meted out, whether to his fellow Indian or to the poor and vulnerable. To achieve his goals he pushed aside his fears and anxieties and worked around his shortcomings. He learned to pack more power into his speeches. They became short and to the point, never long and rambling. 
He was committed, determined and sincere. His heart bled for his country and his fellowmen No sacrifice was too big. To express his solidarity with the poor, he shed his fancy clothes and donned a simple white loincloth and a shawl. His following grew and grew. People rallied around him because they trusted. They were willing to go to lengths to support his clarion call for freedom, even if they had to go to jail, get beaten up and even flogged.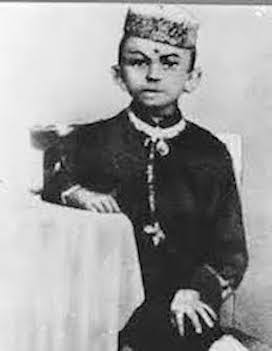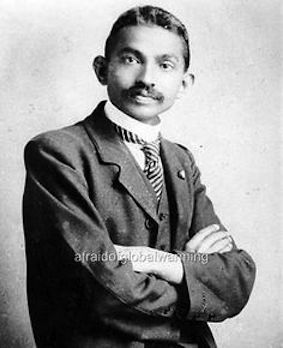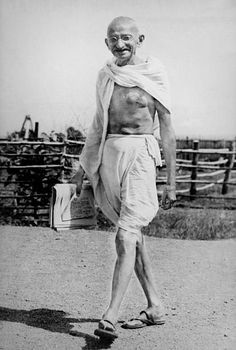 Gandhiji's journey from childhood to a barrister to the Mahatma
___________________________________________________________________________________________________________________________________________________________________
__________________________________________________________________________________________________________________


NOTE FOR PARENTS AND TEACHERS

What is the message that children can derive from Gandhi's life's story? Parents and teachers can discuss with them.
Children who are not academically oriented, don't have to worry. Many an achiever has had challenges in school.
Sincerity, persistence, dedication and belief in one's self can go very far indeed.
If at first you don't succeed try, try again. Gandhi's fear of speaking in public was so overpowering that the first time he had to prresent his case he left the courtroom.
However, when he saw the atrocities being performed against its peoples, he stood up and fought for justice!

Please feel free to post your comments in the Comment Box. Would love to hear what you and your child have to say
------------------------------------------------------------------------------------------------------------------------------------------------------------
                                                  RECOMMENDED READING