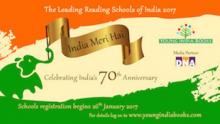 and the WINNING SCHOOLS are...!!!
2017- A landmark year in India's history!
To commemorate this historic occasion, for this year's Leading Reading Schools of India Awards, Young India Books brought to you, INDIA MERI HAI with the objective of creating sensitive readers and aware citizens who care for our land, its people, environment and heritage.
A short video "India Meri Hai" was specially produced to share with your kids - in classrooms or at home. India's leading wildlife photographers contributed to making this an inspirational video.  WATCH THE VIDEO HERE
After all, India Teri, India Meri, India Sabki Hai
And the Winners Are...
1st Place: VIBGYOR HIGH, Goregaon, Mumbai
2nd Place: SHISHUVAN, Matunga, Mumbai
3rd Place: EURO SCHOOL, Airoli, Navi Mumbai
4th Place: LODHA WORLD SCHOOL, Thane
5th Place: JBCN INTERNATIONAL, Parel, Mumbai
Congratulations to all the winning schools! 
Students responses and illustrations will be posted at regular intervals. 
Thank You
Ruskin Bond for kindly agreeing to be our Guest-of-Honour for this year's LRSIA.
Mr Jamshyd Godrej - President, World Wildlife Fund India - for the very touching message (on the video).
Kavita Anand of Adhyayan for your help and support in developing the criteria for the best library practices.
Authors for spending agonising hours evaluating the submissions
Ruhi Gurjar for help in producing the video and helping us arrive at the results.
Photographers for so readily loaning us the use of your amazing images for the video India Meri Hai (names on the video)
Children and Muscians for the rendition of the song India Meri Hai (names on the video)
Donna Reen for unstinting suppport to LRSIA.
Michel Maurivard for all your back-end support.
And last but not least, participating schools, librarians, teachers, parents and children for your whole-hearted response.
A Special mention of the students, teachers and volunteers of Seva Sadan's Primary English Medium School, for going the extra mile.
Note: The decision of the judges is final.