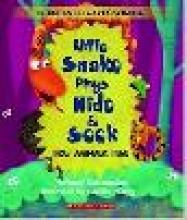 Vivaan Chaudhri
Review of Little Snake Plays Hide and Seek
By Vivaan Chaudhri. Grade 1. Vidyashilp Academy, Hyderabad.
This book tells us how and why animals hide. I really liked this book because in this book all the animals play together and no one hurts each other. it reminds me how I and my friends play in the evening. 
This book It tells us how even in the real, animals can hide from danger. They use their five senses to know what is happening around them.
The book is full of colour pictures and I really enjoyed reading it again and again.


Congratulations Vivaan! Along with your Certificate you will also receive a Gift Vouncher worth Rs 500 from Crossword!