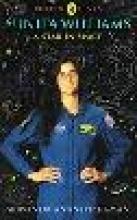 Simran Zaveri
Review of A Star in Space 
By Simran Zaveri. Grade 8. JBCN International School, Parel
"If I can be a pilot why not an astronaut?" 
The story of Sunita Williams is one that inspires all to reach for the stars (literally!). Sunita Williams: 
A star in space written by Aravinda Anantharaman is a non-fiction book and the breathtaking and unforgettable story of how a small girl had big dreams and how she worked incredibly hard to fulfill those dreams. Her story was also one of having to settle for second choices. Her story inspires one to look at a whole new beautiful and blood-thrilling universe in space. Ever since Sunita was young she had big plans. The thrilling biography of how a girl never got what she wanted but due to that it ultimately set on her path to become an astronaut. From a very young age Sunita was obsessed with sport, especially swimming! She would take part in almost every marathon in Needham and went swimming daily. She then grew up, went to college and soon went to look for a job. Her first choice was… A swimmer! No surprise there but that career option didn't work out. She then trained for a pilot for the air force and that was where her dream of an astronaut was born. She thought "If I can be a pilot why not an astronaut?" 
Sunita is incredibly brilliant, enthusiastic and intelligent. Going to space is not a task for the faint-hearted but Sunita musters all her audacity and took the risk. She is a kind and normal person but she has dreams and she chases them. Sunita was determined and very passionate about swimming and sports. Even up in space she felt it a necessity to take part in the Boston marathon, which eventually did complete. She was a light in the dark but soon she was a revolutionary spark and it was a proud moment for all Indians when she took up the challenge and flew to space. 
The moment Sunita starts her journey to space, the book becomes exciting and thrilling and hard to put down. To read about the different fields in which you train for an astronaut, what its like to visit the International Space Station (ISS) or how it feels when a astronaut returns to Earth after a long flight is all very enthralling. 
The book is beautifully written, and I loved the way the wit and humor was woven, as if it were a spider's web, in the book. I loved the thrilling and action-packed parts like when Sunita does her first space walk or when she rocketed through Earth's orbit with her hair flying al around her. I loved those parts because they were exhilarating and made me feel as if I was also up there in space with her. 
My favorite part of the book was when she gave a description of the ISS for that space station had fascinated me for year but using my own imagination to dream from Sunita's descriptions of it seemed more real that looking at a picture on the Internet. It was an absolutely wonderful book and I am sure Sunita's story has inspired millions to pursue their dreams and never give up. 
I recommend this book to anyone who has a dream and need a little push or to anyone who has a craving for adventure for that is what the book is filled with.
 

Congratulations Simran! Along with your Certificate you also receive a Gift Vouncher worth Rs 500 from Crossword! 
Plus a chance to become a reviewer at Young India Books!!