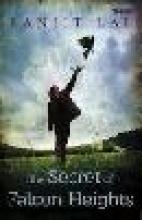 Outstanding Review of LRSIA 2016 - by Riddhi Puranik
Review of The Secret of Falcon's Nest
By Riddhi Puranik. Grade 7. Vibgyor High
Hats off to Ranjit Lal. In this tantalizing book, he experiments with several sensitive issues such as social ostracism & political corruption yet he manages to write a brilliant though somewhat enigmatic story. Despite the fact that this story is categorised under fiction, Ranjit Lal spins it in such a way that you can't doubt its authenticity.
This thrilling adventure story begins with a trio of siblings, with the eldest being Sandeep, he bears a striking resemblance to Julian from famous five, he aspires of becoming a judge in the Supreme Court. His skills are put to test in this phase of his life. Manish who is the middle meddler of this trio, is always on the lookout to tease somebody, he has this strange fascination with building miniature models of fighter planes and military submarines from scrap. Chubs who is by far the most likable character in this whole book is a motherless child who has a scientist father, and is a scatter brain (just like Uncle Quentin from famous five) So she was virtually brought up by her elder brothers, they took such good care of her that caused aunts & uncles everywhere to gush over them. She has this knack for getting lost in a crowd and tends to wander off alone with the family terrier, jacko.
They were going off to live with their Mita Masi who they describe as a human with features a sharp as a ravens'. With all their fun and frolicking they find out that there is some awkward history between the owners of Falcon Heights and the townsfolk. Then one day Chubs "accidentally" wanders off at the crack of dawn just to fall over the ridge and then to be found by the mysterious girl who lived in Falcon Heights. They gradually understand that the mysterious girl called Aranya was shunned by the townsfolk for making false accusations against the famous politician's son, but one day Sandeep saw Aranya near the ridge which was basically the division between Falcon Ridge and Falcon Heights and he saw her observing this magnificent black falcon, the falcon would then came & sat on Aranya's wrist. Later the trio of siblings and Aranya became quite close to each other, but Sandeep was yet unsure as to whose version of the story to believe; Aranya's or the Newspapers. But he couldn't determine this as he was too personally involved in this matter. This is when he realised how hard it was to become a judge and differentiate between innocent and guilty. Because your decision could change that person's life forever.
Ranjit Lal has your heart beating till the moment you reach the end as to who will be the victim. And the ending is definitely one of the best endings you could ask for as many excellent books tend to leave you as a cliff-hanger. This story leaves no stone unturned in terms of detailing, it describes everything from coaxing Chubs into not wandering around, to the angle at which Aryana's pitch-black falcon, Shaheena, flies at. Unlike other books where the cover just doesn't match the story, the book cover is in perfect sync with the story, it shows Aranya, dressed in her trademark jacket and hiking boots, and with her hand extended towards Shaheena. The author makes your heart go up and down just as effortlessly as the falcon.
I would highly recommend this book to anyone who enjoys a thrilling adventure story once in a while.
Congratulations Riddhi. Besides your lovely Certificate you also win a KINDLE!! 
Plus, you get a chance to become a reviewer for Young India Books!!