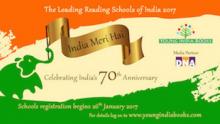 Leading Reading Schools of India Awards 2017!
2017- A landmark year in India's history!
Are You Ready for the 4th Leading Reading Schools of India Awards 2017?
On the forthcoming 70th year of Independence, Young India Books is delighted to announce the fourth
Leading Reading Schools of India Awards (LRSIA) 2017

For the year 2014, our theme, We, the Children of India focused on fiction works set in diverse parts of India.
In 2015 the theme Wild about Wildlife had the children read india-centric books on our wildlife. Inspired by them they wrote an autobiography of an animal of their choice.
Last year, 2016, You be the Judge saw the children become reviewers and choose the most outstanding books. 
Year after year, the children have produced some extremely introspective and amazing work.

For this historic occasion we bring to you, INDIA MERI HAI with the objective of creating sensitive readers and aware citizens who care for our Land, its people, environment and heritage.
A short video "India Meri Hai" has especially been produced to be shown in your school in classrooms or at assembly. India's leading wildlife photographers have contributed to making this an inspirational video. The images in the film can be used for further discussion to sensitise your students to our environment. After all, India Teri, India Meri, India Sabki Hai
SCHOOLS CLICK HERE TO REGISTER
School registration is FREE!
These Progressive Schools Have Already Registered
WANT TO KNOW MORE? CLICK ON THIS LINK