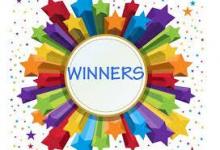 Leading Reading Schools of India Awards 2015
The Leading Reading Schools of India Award, an annual award was established in 2013 by Young India Books; India's foremost review site of children's books, to recognize and honour the five leading schools of the country; schools that believe in the power of the written word and inculcate a love for books and reading.
Theme for 2015: Wild about Wildlife.

Books that showcase Indian wildlife; a fast dwindling heritage, had been recommended for the reading list. 
Children let their imagination go wild!
The little ones wrote about a day in the life of an animal, or, illustrated a scene from the book.
Older children beautifully placed themselves in the animals shoes and came up with some very touching work. Their passion for the animals, concern for the loss of habitat and poaching is remarkable.
 
Dr Vandana Lulla, Director/Principal, Podar International School, Mumbai said:
"I am thrilled at the fact that - The LEADING READING SCHOOLS of INDIA AWARD 2014 has been organized for students across India. The engaging & unique competitions will surely develop the language and literary abilities of students helping them to showcase their talents. Truly, it's a platform whereby students can hone their writing, reading, imaginative & creative skills. In today's day and age, when students are loosing out on their reading & writing skills, such initiatives should be applauded. Kudos to all those involved in this stupendous effort!"
Raza H. Tehsin, Naturalist, Explorer & Hon. Wildlife Warden, Udaipur said about the awards:
"The Leading Reading Schools of India Award is an excellent initiative. Hope it encourages more and more children to discover the joys of reading and be, Wild about Wildlife."

Panel of Judges
Winners were selected by an esteemed panel of judges.
Akbar Padamsee: Renowned International artist, for illustration of scene and story board
Chelna Desai: Graphic designer: Winner of many awards and accolades for the cover design
Uma Krishnaswami: US based writer. Renowned author and winner of international awards judged the senior category
Varsha Bajaj: US based writer, who has won great acclaim for her picture books, judged the junior category

AND THE WINNERS ARE...
Vidyashilp Academy, Bangalore
Bombay International School, Mumbai
St Kabir School, Vadodara
Shishuvan, Mumbai
Bal Bharati Public School, Delhi

Congratulations!!
Your commitment to a strong library programme that inculcates a love for reading in your students has been reflected in the quality of work of the students.