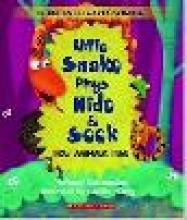 Jehaan Patel
Review of Little Snake Plays Hide and Seek
By Jehaan Patel. Grade 2. Bombay International School
 I am writing a book review on a book I read yesterday. The book is called Little Snake Plays Hide and Seek. It is written by Mathangi Subramanian.
The book is about a little snake and his 8 friends Squirrel, turtle, crab, frog, butterfly, grasshopper, baby tiger and parakeet who play hide and seek. The hero of the book is Little Snake because he uses his five senses to find his friends. The five senses are hearing, seeing, smelling, tasting and touching.
Little snake's friends are hiding using camouflage. Camouflage is blending in with the world around you. Many animals use camouflage to hide from danger. The story made me remember when I saw a fish camouflage in Maldives. The fish looked like a rock but when I swam near it the fish swam away.
I really liked the book because it was very interesting.
The illustrator is Suvidha Mistry. The illustrations are very colourful.
I will recommend my friends should read the book.
Congratulations Jehaan! Along with your Certificate you also receive a Gift Vouncher worth Rs 1500 from Crossword! 
Plus, you get the chance to become a reviewer for Young India Books!!