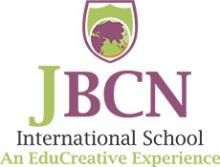 JBCN International School, Borivali, Mumbai
JBCN INTERNATIONAL SCHOOL, BORIVALI
"Readers make Leaders", that's our Reading mission and our Learners write Book reviews for every book they read and Young India Books Leading Reading Schools of India Awards has appreciated their skills.
Reading opens all doors to us and something that we all need. I strongly feel that everyone should understand what happens inside a book and children can be transported to another world through books. Thank You for starting this initative and introducing Indian authors.
Principal Mrs. Debika Chatterji
A few words from the Librarian: Mrs. Sunita Monteiro
The Leading Reading Schools of India Awards has selected some of the best Indian books that showcase our cultural diversity along with awesome illustrations. The Award gave our learners a reason to review an Indian book and they can now compete on a National platform.
At JBCN International School, we believe in order to appreciate a book, a book report/review is a must (reading for understanding), therefore we have a Reading Diary, wherein Learners share the fist of the story, their own reflection and imagination for every single book read.
The JBCN International Schools strongly propagate the joy and importance of BOOKS by organizing a Multi round BOOK QUIZ amongst its three schools.