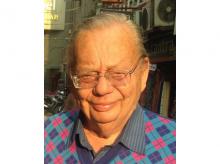 Guest-of-Honour for LRSIA 2017 - Mr Ruskin Bond!
Young India Books is honoured that Mr Ruskin Bond is our Guest-of-Honour for the Leading Reading Schools of India Awards 2017!
He will be selecting the winners in each category and will personally sign copies of his biographies for the winners.
Every participant will receive a Participation Certificate to treasure bearing his signature!
So, hurry children and register for LRSIA 2017 - INDIA MERI HAI and tell us what you are going to do for our country for her 70th Birthday!