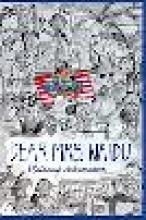 Alekha Malhotra
Review of Dear Mrs Naidu
By Alekha Malhotra. Grade 5. The Cathedral and John Connon Middle School
'Dear Mrs. Naidu' by Mathangi Subramanian is a delightful book about a determined young girl and her quest, against the odds, for educational equality. The story is set between June 10th  and September 13th , 2013 in the slums of Bangalore where our young heroine, Sarojini, lives with her mother, a maid.  Her mother's employer, Vimala Madam, gives young Sarojini a book about Sarojini Naidu who not only was an instrumental part of our struggle for freedom, but also a global advocate for women's equality and women's education.  As part of a school assignment given by her teacher, Annie Miss, Sarojini has to write a series of letters to a historical figure and chooses to write them to Sarojini Naidu.  It is through these letters that we are told the story of the life and struggles of young Sarojini.
The story begins with Sarojini's best friend, Amir, leaving the Ambedkar Elementary School that they both attend, and moving to the private and far superior Greenhill Public School. When Sarojini learns about the Right to Free and Compulsory Education Act 2009 (RTE) she decides to go to Greenhill and ask for a seat for herself. When she is rejected at Greenhill, she educates herself with the help of Vimala Madam, a famous advocate, about the RTE and sets about to improve her own school instead of simply transferring out.
I absolutely loved this book as it is a story about an inspiring young girl, not much older than me who, with grit and resourcefulness, decides to take on the system and fight for her rights despite being constantly discouraged by the people around her. Despite being a naturally shy girl who is nervous about talking to people, she finds strength in her knowledge of the facts through the vast research she does, and with the knowledge that she is in the right. I also found the author's technique of narrating the story through a series of letters to be very innovative. These letters while being very informative are also extremely vivid and entertaining. For example, I thoroughly enjoyed Sarojini's hilarious description of the' Child's Rights Club ' with only two children present and I almost felt that I was there
I would give this book five stars and highly recommend it to anyone who likes a good story, whether young or old, boy or girl. I especially would recommend it to our politicians who have yet to follow through on the promises that they have made to every child and parent in this great country of ours.
Congratulations Alekha. Besides your lovely Certificate you also win a Gift Voucher from Crossword worth Rs 1500!
Plus, you get a chance to become a reviewer for Young India Books!!